Growth Strategy & Business Growth Consulting Services
QDI's proven growth strategies generally concentrate on two broad marketing initiatives:  increasing demand and extracting full value for a product. While some clients may grapple with driving growth in a new market, others are looking for new avenues to increase market share in a stalled, mature market. Can you increase the value of your product by offering new benefits or superior service?  A move to needs-based growth strategies requires a move from a selling culture to collaborative learning.  At QDI, we believe you have to work with your customers to identify their unmet needs and then create innovative solutions to those needs … then you're on your way to increasing the value of your product and ultimately increasing market share.
QDI's market-driven growth strategies are the product of in-depth market research and strategy planning with your marketing and sales team. The right marketing growth strategy for your company is a function of your business objectives and resources and where you are in your market life cycle
.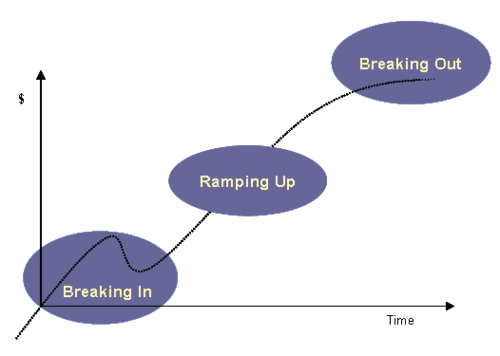 QDI works with clients at three distinctly different market life cycle stages:
Breaking-in – New ventures looking to bring new technologies to market
Ramping-up – Companies in growth markets who are rapidly ramping up their go-to-market organization
Breaking out – Companies in mature markets looking to accelerate growth.
Breaking-in companies often need help to:
Identify the specific customers who will value their new offering enough to purchase it in the near term
Define their value propositions in terms that are meaningful and compelling to customers
Develop the go-to-market organization necessary to support the early adopters
Ramping-up companies often need help growing their sales and marketing organizations and channel positions fast enough to keep up with market growth. QDI helps these clients:
Identify the right channels of distribution
Develop programs to help the channel be successful with the client's offering
Develop policies, price structures and procedures to minimize conflict while maximizing coverage
Breaking-out companies are trying to grow share in a stalled, mature market. They have the following options:
Increase demand for their products and services
Become the share leader as the market matures by "accelerating maturation" in their market
Reinvent their future by redefining their products and services to provide new
growth opportunities
>

Increasing Demand
You increase demand by increasing:
Consumption per existing user
Share of existing consumption
Market penetration to accelerate the rate of adoption
Market/product applications
>
Accelerating Maturation
You accelerate market maturity by:
Becoming the low-cost marketer
Gaining greater control over your go-to-market system
Reinventing Your Future
You reinvent your future by developing new value to offer to the market
Your customers or new customers
Value that relates directly to your core business or value that takes you into new businesses
In today's turbulent business environment the focus never moves from the bottom line. Marketers are under increased pressure to constantly drive growth. Whether that means entering new markets or jump starting a stalled, mature market, QDI's consultants help position businesses to increase market share and grow revenue.
"What differentiates QDI Strategies is that they have a proven track record of getting results for their clients. They get results because they pursue marketing consulting assignments that involve both the strategy development and the implementation of those strategies to achieve client objectives. That total approach has resulted in both (a) a proven track record of getting results and (b) experience and know-how that is transferable in the most important deliverable of a consulting assignment….RESULTS!"
Guido DiGregorio, Communication Intelligence Corporation
"QDI's market analysis is the best I've seen. QDI confirmed a lot of my beliefs about the market but structured the findings in a way that made them clear. They even taught me a couple of things I didn't know that make a lot of sense now that I see them. QDI gave us the best work on this market I've seen in my 20+ years."
Brian Halverson, Rexnord