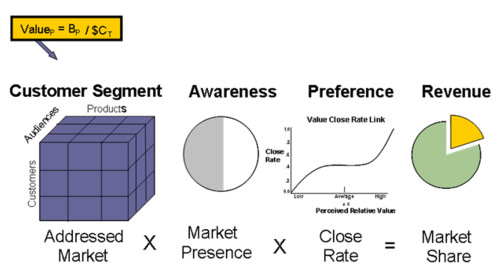 QDI Strategies has a history of creating value.
QDI's focus is on value, the value you create for your customers and translating that value into sales and profit growth, which is why we describe ourselves as Customer Value Consultants.
Customer selection value
We select which customer segments to target for growth. Our venture firms frequently target one best fit segment, our Fortune 500 clients may develop value propositions for all of the segments in their market.
Creating new value
Our value research will quantify the components of value by segment and our software tools enable us to model the impact on win rate of alternative value propositions.
.
Segmenting for value
 Our experience in creating new go-to-market systems combined with the client's execution experience produces a new strategy for each segment. Our value management model enables us to model share and revenue under alternative strategies.
Capturing value
For some clients we employ the value management model with channel / sales force behavioral work to help define the new processes, metrics, pricing, channel discounts, and incentives. The result is capturing more of the value in revenue and profit.
Developing actionable strategies.
We use a proven "discovery research process" including voice of the customer, voice of the market and quantitative models to develop 20/20 insight. Throughout this process we continually address creating and capturing value in the marketplace. Why?


Our experience
You must communicate and deliver more value to your customers than other alternatives. QDI Strategies unites your goals with our insights to develop actionable strategies.

Your goals
 You have goals. We listen and focus on understanding what you need to know to succeed in the marketplace. We engage in a thorough learning process.

New insights
We don't just scratch the surface. We dig deep for 20/20 insight until our analysis yields clarity. We continue to ask "What did we learn and how will it impact achieving your goals?"

Actionable strategies
We work closely with our clients using 20/20 insight and a combination of quantitative and qualitative tools to develop actionable strategies. We're dedicated to your success!
Since 1991 we've delivered value across a broad range of companies in both high technology and low technology markets.  
Our client range from start-up ventures to major global corporations. Clients come to us when they want to grow significantly faster than they have in the last few years.  The scope of our engagements can range from a business unit up to the whole company or down to a single product line.
In some cases it's a new technology, a new product or entering a new market, where clients go from concept or initial sales to a successful business.  In other cases it is a mature business that needs to change where their products are used, how their products are used, or completely reinvent themselves.
We are a guide on the journey to delivering better value.
Changes of this magnitude can't be made by someone outside your organization. Our role is to facilitate new information, perspective and ultimately execution that delivers that growth.
Our passion is the development and implementation of profitable growth strategies based on market dynamics and knowledge of the buyer. Together with our partners we can provide research that spans the globe geographically and spans the playing field conceptually.
QDI's Approach to Value Management
Business success is all about creating and capturing value. This is the cornerstone of QDI's consulting philosophy. At it's founding more than 25 years ago, Steve Bassill had developed a framework and systems model for managing a business that would systematically create and capture value, a frame QDI calls "Value Management."
Learn more about Value Management from QDI.
QDI Strategies' research expertise is in developing "understanding."
When you want to know why things are happening and how they will change, QDI's consultants have the expertise and industry experience to create the insight you need.  
Working with our research partners in Europe and Asia, we can develop insight regarding any market in the world.  In addition, our research partners are experts in database development, competitive intelligence and industry dimensioning.
Our project managers custom design the research approach to meet our clients' needs.  There is not one approach that fits all clients.  Likewise, for any client engagement, we may combine multiple types of research to meet the strategic objective.
Our goal is to develop the insight necessary for our clients to make the hard decisions that will grow their businesses.  Our promise is that we will engage our clients in a learning experience that makes this insight their insight and a foundation for their strategy decisions.
Value driven results.
See how we've helped others like you with challenges like yours.
Our clients
We've driven growth in every industry on every continent in (almost) every country.
Armstrong Industrial Specialties
BP Amoco Chemical
Binding Industries of America
Caterpillar
Chicago Tag & Label, Inc.
Communication Intelligence Corporation
Commonwealth Edison
Covington & Burling
Degussa-Huls
DocuSystems
The Dow Chemical Company
Energy Center of Wisconsin
Emerson Process Management
EPRI (Electric Power Research Institute)
The Euclid Chemical Company
Falk Renew
Federal Signal
Flex Products
GAF Materials Corp.
Gould's Pumps-ITT
Hydro Aluminum North America
ICC (International Component Corp.)
ITT Fluid Technology Corp.
ITT Engineered Valves
Ivega
Leo Burnett U.S.A. – Idealab
Lowara Spa
Manhattan Toy Europe, Ltd.
Medela, Inc.
Media Pull
SDGE (San Diego Gas & Electric)
Midwest Young Artists
OG&E (Oklahoma Gas and Electric)
OTTO Industries
PG&E (Pacific Gas and Electric)
Porter Cable
SMUD (Sacramento Municipal Utility District)
Pentair
Plastag Corporation
Real World Technology
Rexnord
RGC Communications
NEEA (Northwest Energy Efficiency Alliance)
Riverside Publishing
Resource Commercial Flooring Network
Rust-Oleum
Sarnafil Inc.
Spirax Sarco
Stonhard

President
Steven Bassill is President of QDI Strategies, Inc. For the past 26 years as a management consultant, he has worked with companies to achieve breakthroughs in product, channel and brand strategies.
His success is based on helping QDI clients change how they view their customers, themselves and the marketplace. Steve received a BSBA and an MBA in marketing and finance from Northwestern University. Prior to launching QDI Strategies, he gained valuable experience as Chief Operating Officer at Frank Lynn and Associates, a marketing firm specializing in channel marketing. Steve frequently speaks on industry trends and also shares his expertise in the numerous white papers and marketing strategy articles he has authored.

Principal
Michael Barr is a principal with QDI Strategies, Inc. For the past 20 years, he has worked with high tech and mature industries to sell products and services into U.S., European and Asian markets. He specializes in business-to-business marketing, driving commercialization of new technologies, product development, brand management, pricing, communications and channel distribution. B2B industrial marketing is his specific area of expertise.
Mike helps clients meet their changing product and service needs by utilizing direct research and structured decision making tools to create breakthrough strategies. Through his work, he has helped clients develop successful growth strategies.
Mike earned a BA and MA in economics from the University of Illinois. He held management positions at two Global Fortune 500 companies before joining QDI Strategies. Mike is a frequent participant and speaker at industry conferences.